Queer History Wikipedia Workshop 2022
24.11.2022 klo 16:00

–

19:00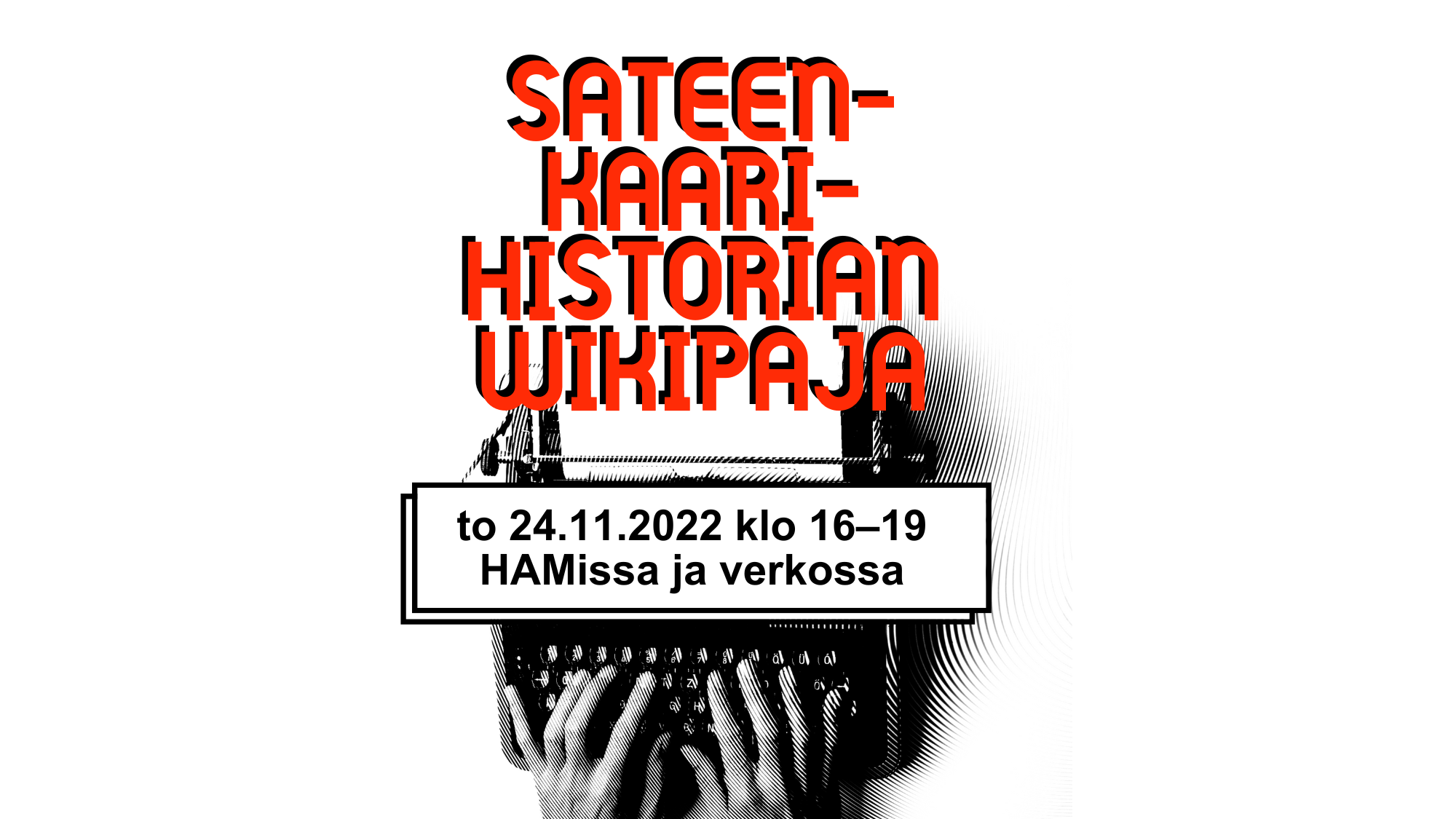 Queer History Month in Finland is celebrated every year in November. Come and learn more about Finnish queer history and add missing queer history on Wikipedia!
Event description
What and why?
Queer history is everyone's common history, but there is a lot of silence around it. It is not always easy to find reliable, open information about Finnish queer history, which is a common problem with other marginalized historiography as well. Also Wikipedia has huge gaps related to queer history, such as important missing pages and sections of pages, or individual mentions. These shortcomings push queer history further into silence and distort the understanding of common history.
Join us in complementing Wikipedia with the contents of queer history and making queer history available to everyone!
Where and when?
The Queer History Wikipedia Workshop will be organized onThursday 24 November 2022 from 4 to 7 pm.
It is a hybrid event, meaning it is organized simultaneously in HAM Tennis Palace, Helsinki (Eteläinen Rautatiekatu 8, 00100 Helsinki), as well as online on Zoom. You can indicate your preferred way of participating in the registration form.
For whom?
Anyone interested in the topic can participate in the workshop! You don't have to be an expert on queer history or Wikipedia editing, you can just come as you are. Whether you are a young queer person or an experienced researcher of queer history, a queer activist or an ally, in the Wikipedia workshop you can get to the bottom of things together, and support is available.
The workshop is a particularly good opportunity to get to know Finnish queer history at a low level and, of course, learn how to edit Wikipedia in a nice group. You can sign up with your friend.
How?
Sign up for the event, so that we can prepare snacks for everyone participating and prepare for the number of participants on site and remotely. The event is free of charge.
Please create a Wikipedia account in advance. If possible, bring your own laptop with you if you are attending on-site.
The event starts with a small presentation that sets the mood for queer history and will help you to get started.
Throughout the event, queerhistory researchers will be on call and help with content issues and with finding and tagging sources. There are also Wikipedia experts who advise on Wikipedia's technical questions.
Friends of Queer History brings source literature to the event and lists open sources on the web. This makes it easy to mark sources in the texts you write. Sources help in evaluating texts and make them more valid.
Vegan snacks and drinks are available during the workshop – and of course good company!
Program
16.00–16.30 Introduction to queer history (Tuula Juvonen and Sandra Hagman, only in Finnish)
16.30–16.45 Small introduction to Wikipedia practices (Kimberli Mäkäräinen, Susanna Ånäs)
16.45–18.45 Workshopping, writing, free discussion and refreshments – experts will be present throughout the event
18.45–19.00 Summary, feedback and conclusion
Registration
The registration is open until 23 November 2022 . The event is free of charge.
(If the form above doesn't work, you can register via the same form on Google Forms.)
Accessibility
Presentations and speeches at the event are in Finnish. There is no sign language interpretation or written interpretation at the event.
The association's Safer Space Guidelines are in use at the event. Please read them beforehand.
On-site participation:
HAM's ticket counter and entrance are located on the second floor of Tennis Palace (address Eteläinen Rautatiekatu 8, Helsinki), which is accessible using lifts located in the vicinity of all the exits. On the Eteläinen rautatienkatu end there is an escalator leading directly to the museum ticket counter. The event space ("HAM-sali") is located on the same floor as the ticket counter.
Health safety: Please don't attend the event on-site if you feel like you have the flu or have flu symptoms. Take care of good hand hygiene. We recommend using a face mask, and masks as well as hand sanitizer will be available at the event. We are monitoring the corona situation and will inform those who have registered about any changes, and on this page as well.
Read more about arrival to HAM (opens in new window).
Read more about HAM's accessibility here (opens in a new window).
Online participation:
Remote participation is organized via Zoom. A Zoom link will be sent during the week of the event to those who have registered. Remote participants can follow the presentations at the beginning of the event (see program above). The coordinator of the event, Kaura Raudaskoski, will be on Zoom during the entire event, passing on questions and comments to the experts on site. If you have accessibility needs or wishes, we are happy to discuss them with you beforehand, so please contact us!
Further info:
Kaura Raudaskoski
Secretary and project coordinator
Friends of Queer History association
sihteeri@sateenkaarihistoria.fi
+358 45 783 17571 (Tue-Fri)